Armed Forces Division in Disaster Management
Bangladesh is one of the most disaster prone countries in the world. Over the years, it has established a role model of disaster management in the world. One of the foremost basis is astounding civil military relation that exists in all spheres of activity in Bangladesh. An envious model of civil military coordination functions here. Armed Forces very closely work with the lead ministry, Ministry of Disaster Management and Relief (MoDMR) and remain standby to render any kind of assistance for the nation.  
Disaster Management by AFD
Bangladesh Armed Forces take active part in the events of disaster risk reduction, its preparedness and management. Besides, Armed Forces take significant initiatives in promoting civil-military coordination and measures against earthquake. The largest exercise on earthquake disaster in Asia Pacific Region named Disaster Response Exercise and Exchange in short DREE is organized in Bangladesh since 2010. It has now become a brand in Bangladesh. There is earthquake contingency plan prepared for each sector of Dhaka City in line with national contingency plan and few major cities outside Dhaka. Every year Armed Forces Division is updating the contingency plan of respective sector through conducting DREE. Besides, Armed Forces Division along with MoDMR co-hosted 'Exercise Coordinated Response' (COORES)-2019 in Singapore in April this year which is was great success.
There are dedicated Light, Medium and Heavy Urban Search and Rescue team in every military formation to manage any kind of disaster. Armed Forces Division has also prepared a web based database for Disaster Management related issues. Besides, Armed Forces Division is working with MoDMR for a sustainable communication system during disaster namely 'Disaster Response Emergency Communication System'.
Following the exodus of forcibly displaced Myanmar Nationals in Bangladesh Armed Forces Division had conducted a proactive demonstration on land slide in Cox's Bazar area in 2018 and 2019. Regular participation in different disaster related seminars, workshops and training by Armed Forces members both at home and abroad also reflects the hard work as well as expertise of Armed Forces in disaster management.
Modalities of Armed Forces' Participation in Disaster Management
Whenever Bangladesh faces a disaster, be it natural or manmade, it becomes imperative for the Armed Forces to respond quickly with its own management, communications and administrative machineries to assist the civil authorities. The purpose is providing humanitarian relief to prevent further loss of lives and property. This contribution has usually been made under some form of official arrangement 'In Aid to Civil Power', as laid down in the standing operating procedures. Experience has shown that military forces are fully effective in disaster management role because of its robustness that can operate in all-weather condition, having all terrain capability and holding required equipment to meet emergency.
Armed Forces Division plays a vital role in disaster management as part of overall national strategy to cope with disaster. MoDMR is the prime Government organ on whose requests; AFD works primarily in Aid to the Civil Power to mitigate the crisis. The prime role of AFD is to coordinate the employment of Armed Forces in disaster management and the overall relief operation. During a Disaster, Army, Navy and Air Force personnel are deployed to the affected areas. To facilitate their work, AFD establishes a monitoring cell to coordinate with all concerned ministries of the government, which includes Ministry of Foreign Affairs, Ministry of Home Affairs, Ministry of Disaster Management and Relief, Ministry of Health and Ministry of Civil Aviation, and of course friendly armed forces.
Integration of Armed Forces in Disaster Management
According to the Disaster Management Act and SOD, in any deadly disaster situation or in respect to apprehension of any deadly disaster when necessity of Armed Forces assistance become essential, the National Disaster Response Coordination group would submit recommendation to the government for cooperation of the Armed Forces. If any recommendation is received from National Disaster Response Coordination Group, the government may give directives to the Armed Forces Division to provide necessary assistance to civil administration in pre-disaster or emergency response activities during a disaster accordingly.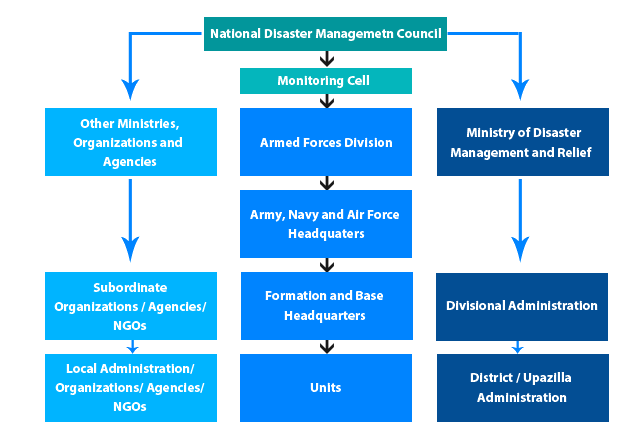 Figure: Procedure of Armed Forces integration during any disaster
In the above figure, three procedures have been described. On right, working procedure of lead ministry, MoDMR with their division / district body, on centre, vertical and lateral coordination of AFD once involved and on left, working procedures of other ministries have been shown. AFD laterally coordinates with MoDMR and other ministries, organization and agencies involved in Disaster management. AFD guides the Service Headquarters regarding their employment, and coordinates the effort of three services. At Division level, the formation or base headquarters coordinates with the local administration and similar is done at the district level and below.
In a local level, if it becomes essential to take assistance of Armed Forces to deal concern disaster situation effectively, the District Disaster Response Coordination group may submit its recommendation to Deputy Commissioner to take cooperation of Armed Forces. Deputy Commissioner either may send a demand note to the AFD through MoDMR seeking assistance of Armed forces, or, address an emergency situation to avoid delay. He also may seek cooperation directly from local armed forces authority.  In such scenario he would inform this matter to MoDMR and AFD as soon as possible through a written, fax or e-mail. Said mechanism is shown at following figure. The subject may appear simple in the figure but in reality, it is a difficult understanding to coordinate the efforts of several organizations who work with different pace.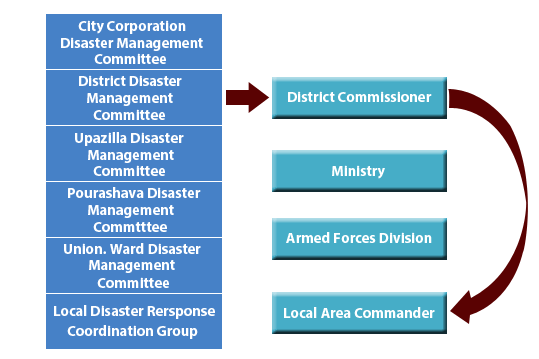 Figure: Response procedure during any disaster