One of the major sources of national motivation of Bangladesh for Global Peace is the glorious Liberation War. In 1971, the nation experienced genocide, persecution, suffering, displacement, torture and horror of humanitarian crisis. That enables the people of Bangladesh to better understand the plight of a distressed population/nation.
Another major source of the inspiration is Constitutional Obligation. The vow for establishing peace and security that emanates from the principles enshrined in the Constitution of Bangladesh. The Preamble to the Constitution reads "We may prosper in freedom and may make our full contribution towards international peace and co-operation in keeping with the progressive aspirations of mankind".
Besides, the national intent is clearly pronounced through the foreign policy of Bangladesh. One of the four basic principles of the foreign policy is "Friendship to all, malice towards none". It also promotes international peace, security and solidarity. There are various significance of these principles such as Bangladesh believes in culture of cooperation over culture of conflict, peaceful settlement of disputes and peaceful changes in international arena.
Protection of civilian is the most important mandate of UN Peace Operations these days. Culturally, Bangladesh Armed Forces, Social Face is predominant over Warrior Face; Protecting People is predominant over Fighting Enemy. Therefore, Bangladesh considers UN mission as probing grounds for the Armed Forces as Protector of People. Peacekeepers of Bangladesh are also motivated as such.
Participation in UN Peace Operation greatly enhances the image of the country, which ultimately helps the overall progress of bangladesh.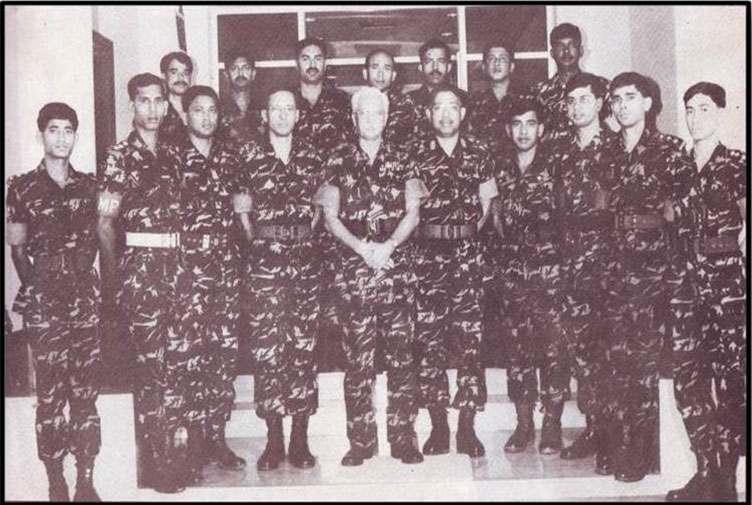 Photo: A Team of 15 Army Officers in 1988 (UNIIMOG)
The journey of Bangladeshi peacekeepers attiring the Blue Helmet began in 1988 by sending 15 observers to United Nations Iraq-Iran military observer group mission (UNIIMOG). Bangladesh Police joined in the next year (1989). Subsequently, Bangladesh Navy and Bangladesh Air Force joined United Nations peacekeeping operations in 1993. Bangladesh Armed Forces has always been responding promptly to the United Nation's call for strengthening world peace and stability by contributing her troops including the police contingents for peacekeeping. Till date, Bangladesh has successfully completed 63 PeaceKeeping mission/assignment  in around 40 countries/locations where 1, 67,274 peacekeepers from Bangladesh Armed Forces have taken part. Bangladesh is one of the leading troops contributing country with a total of 6,924 peacekeepers deployed in 12 countries/locations.
Current Deployment
| | |
| --- | --- |
| Country/Location | Name of Mission/Assignment |
| DR Congo | |
| Lebanon | |
| South Sudan | |
| Western Sahara | |
| Mali | |
| CAR | |
| Abyei | |
| Yemen | UNMHA |
| Ethiopia | UNOAU |
| Khartoum,Sudan | UNITAMS |
| Libya | |
| Netherlands | P-3 (Assignment) |
| USA (New York) | |
Completed Deployment
Country/Location

Name of Mission/Assignment

Afghanistan

Afghanistan-Pakistan

UNAMA

UNSMA/UNGOMAP

Angola

UNAVEM & UNAVEM III

Bosnia

UNMIBH

Burundi

BINUB

Cambodia

UNAMIC / UNTAC/UNMLT

Congo

MONUC

Croatia/East Slovenia

UNTAES

East Timor

UNAMET / UNTAET / UNMISET

Ethiopia / Eritrea

UNMEE

Georgia

UNOMIG

Haiti

UNMIH / MNF/MINUSTAH

Iraq

UNGCI/UNMOVIC

Iran

UNIIMOG

Ivory Coast

MINUCI/ONUCI/UNOCI

Kosovo

UNMIK

Kuwait

UNIKOM

Liberia

UNOMIL/UNMIL

Macedonia

UNPREDEP

Mozambique

ONUMOZ

Namibia

UNTAG

Rwanda

UNAMIR

Sierra Leone

UNAMSIL/ UNIOSIL

Somalia

UNOSOM-I –II/AMISOM

Sudan

UNMIS

Tajikistan

UNMOT

Uganda / Rwanda

UNOMUR

Yugoslavia (Former)

UNPROFOR / UNMOP

CAR & Chad

MINURCAT

Sudan (Darfur)

UNAMID

West Africa

UNOWA

Kenya (Nairobi)

UNSOA

Syria

UNSMIS

Somalia

UNSOM

Office of the African Union

UNOAU

Cyprus

UNFICYP